News
Concerto Gran Loggia di Rimini - Grand Lodge Concert, Rimini
07.04.2015 - Concerto Palacongressi di Rimini, 11 Aprile 2015, ore 20 - Concert at Palacongressi of Rimini, April the 11th 2015, 8 pm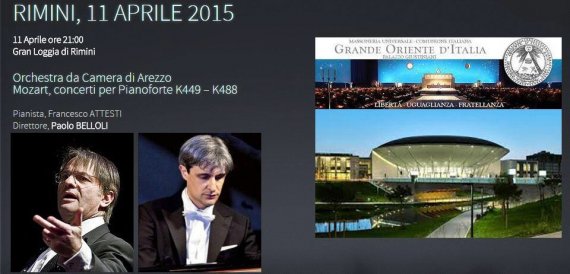 Sabato 11 aprile alle ore 20, presso il Palacongressi di Rimini, Francesco Attesti sarà protagonista con l'esecuzione di due concerti per pianoforte di Mozart insieme all'Orchestra "Città di Arezzo" e al direttore Paolo Belloli. Il concerto è inserito come evento culturale nella tre giorni delle Gran Loggia del Grande Oriente d'Italia, la più importante istituzione massonica italiana, dal tema "Il coraggio delle idee, la sostanza delle azioni".
I due concerti, K 449 in mi bemolle maggiore e K 488 in la maggiore, sono tra i più importanti della produzione mozartiana, in particolare il K 488 presenta una complessa struttura con un adagio tra i più belli mai scritti. É l'unico movimento scritto in fa diesis minore da Mozart e nella sezione centrale la melodia é stata utilizzata per la composizione di un Trio nell'opera Don Giovanni.
L'ingresso é libero fino ad esaurimento posti disponibili. (www.grandeoriente.it)


On Saturday the 11th of April, 8 pm, at Palacongressi of Rimini (Italy), Francesco Attesti will perform as a soloist two piano concertos by Mozart; K 449 in E flat major and K 488 in A major. On stage, he will be joined by Orchestra "Città di Arezzo" and conductor Paolo Belloli. The concert is the main cultural event in occasion of the Grand Lodge organised by Grande Oriente d'Italia, the most important Freemason Italian institution. The Grand Lodge theme will be "The ideas braveness, and the substance of actions". The two concertos are among the most important written by Mozart. In particular, K 488 has a complex structure and the second movement is somewhat operatic in tone. This is also the only movement by Mozart in F sharp minor. The middle section was also used for a trio on his opera Don Giovanni.
Free entrance until seats are available. (www.grandeoriente.it)
Tour & Events
Twitter