News
Premio Italive 2015 - Italive Prize 2015
11.04.2015 - Palacongressi di Rimini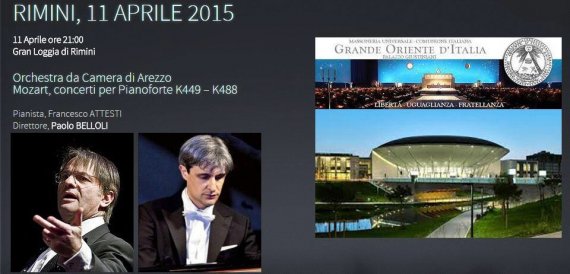 L'evento "Concerto Gran Loggia di Rimini" organizzato nel Comune di Rimini dal Grande Oriente d'Italia è stato censito è ammesso alle votazioni per il Premio Italive 2015.
Italive.it (una iniziativa promossa dal Codacons con la partecipazione di Autostrade per l'Italia in collaborazione con Coldiretti) informa su quello che accade nel territorio e presenta un calendario aggiornato dei migliori eventi organizzati.
Le votazioni espresse dai visitatori, che saranno raccolte fino a fine anno e giudicate da una commissione di esperti, determineranno il vincitore del Premio 2015 che verrà assegnato e consegnato in data da definire a Roma, presso l'Area Archeologica dello Stadio di Domiziano (Piazza Navona).
Per votare l'evento è necessario cliccare sul seguente link ed esprimere il proprio voto in basso a sinistra della pagina che si aprirà.



"Concerto Gran Loggia di Rimini" organised the last Saturday by Grande Oriente d'Italia at Rimini's Palcongressi, was included among the contestants of Italive Prize 2015.
Italive.it informs about the main Italian cultural events and it is sponsored by Codacons, Autostrade per l'Italia and Coldiretti.
The votes given by the audience and the public will be collected until the end of the year. A jury will then assign the Prize in Rome at the Archeological Site of Domitian Stadium (Piazza Navona).
To give your preference please click on this link and express your rating at the bottom left of the page.
Tour & Events
Twitter