News
Chiavi della città - Key to the City
14.02.2013 - McAllen (TX - USA)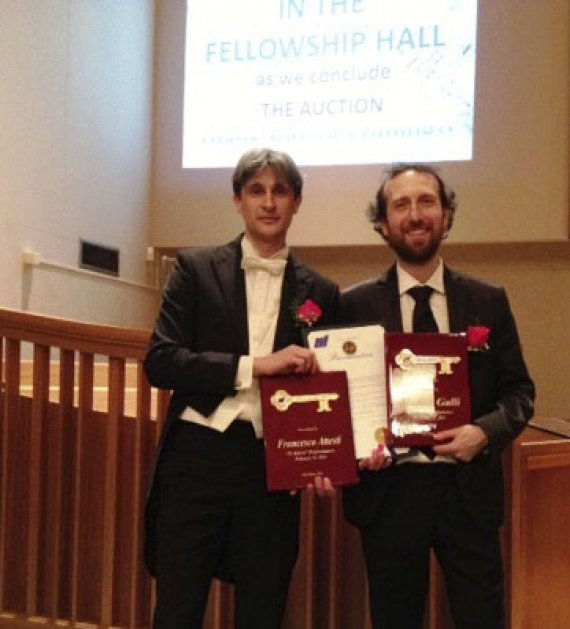 Lo scorso 14 Febbraio, in occasione del concerto dedicato a San Valentino dal titolo "Ti Adoro", il sindaco della città di McAllen (Texas), Richard Cortez, ha conferito le chiavi della città al pianista concertista Francesco Attesti e all'organista titolare della Basilica di S. Maria presso S. Satiro di Milano Matteo Galli in segno di riconoscimento per le rare qualità artistiche, umane e culturali. Il conferimento è avvenuto poco prima dell'inizio della seconda parte dell'esibizione con una proclamazione ufficiale letta dalla Rappresentante della Camera di Commercio, Fawn Foudray Golich, che ha auspicato anche la cadenza annuale del concerto e l'esclusiva per il Sud del Texas. Questo premio è il quarto riconoscimento ottenuto dal Maestro Attesti in altrettante città nel corso degli ultimi due anni e il terzo consecutivo ricevuto negli Stati Uniti.

An ornamental key or the "Key to the City" is presented to esteemed visitors; an honor bestowed by Mayor Cortez and the City Commission to visiting dignitaries in McAllen, TX. This presentation honors outstanding civic contributions of the recipients.
Internationally Acclaimed Pianist, Francesco Attesti and Matteo Galli, Chief Organist of the St. Maria presso San Satiro Basilica in Milan; received "Keys to the City" in recognition for their contribution of a benefit on Valentine's eve at the First Presbyterian Church of McAllen - "Ti Adoro". The night of Masterworks included music by: Rossini, Schubert, Chopin, Verdi, Saint-Saëns, in support of Puentes de Cristo, Su Casa de Esperanza & Youth Camp Scholarships. This is the forth similar award received by Maestro Attesti in the last two years and the third in the Unites States.
Tour & Events
Twitter