News
Premio Scuola di Musica Cappetti
25.07.2013 - Monte San Savino (Ar)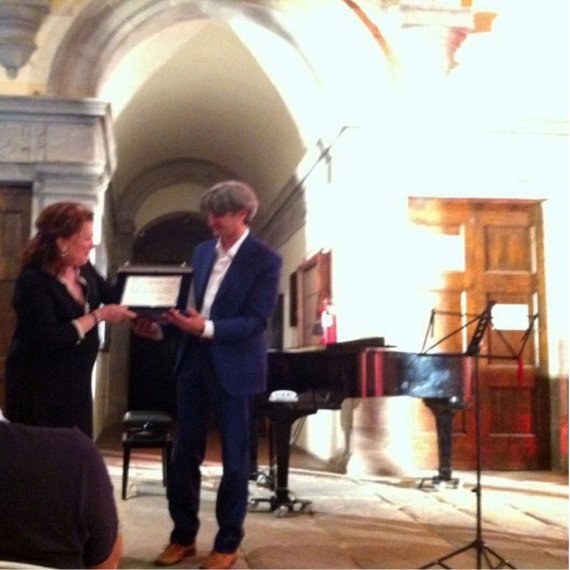 Lo scorso giovedì 25 luglio, al termine di un concerto degli allievi più meritevoli all'interno della programmazione del Festival Musicale Savinese, il Sindaco di Monte San Savino, Margherita Scarpellini, ha premiato la Scuola Comunale di Musica "Cappetti" per i prestigiosi risultati raggiunti nell'anno scolastico 2012/13.
Sotto la guida del Maestro Francesco Attesti, la Scuola é infatti risultata la più premiata della provincia di Arezzo in Concorsi Nazionali e Internazionali, contando ben 13 premi distribuiti nella quasi totalità delle discipline insegnate. Inoltre, lo scorso maggio, per la prima volta nella sua ventennale storia, ha allestito l'opera per bambini Brundibàr, rappresentata al Museo degli Strumenti Musicali presso il Castello Sforzesco a Milano in occasione del settantesimo anniversario dalla prima esecuzione.
Molteplici sono i progetti previsti per il prossimo futuro che coinvolgeranno i docenti e gli studenti in percorsi musicali sempre più ardui. Un grazie sentito va in primo luogo proprio ai docenti che con tanta dedizione e professionalità svolgono la propria funzione di educatori. Senza di loro, tutto ciò non sarebbe stato possibile.
The last Thursday 25th of July, after a concert with the best students organised by Festival Musicale Savinese, the Mayor of Monte San Savino, Mrs. Margherita Scarpellini, awarded the Music School "Cappetti" for the prestigious results achieved during the year 2012/13.
Under the direction of maestro Francesco Attesti, the school was the most awarded of Arezzo's province in National and International Competitions, with 13 prizes won, covering most of the disciplines thought.
Not to mention, the performance of Brundibàr, the opera for children, performed the last May in Milan at the Historical Instruments Museum Museum to celebrate its 70th anniversary.
There will be many others important projects and performances in the near future involving teachers and students. A sincere thanks goes to the teacher, without them these results would not be possible.
Tour & Events
Twitter